One of the most remarkable experiences which one can have in Corbett's natural splendor is the night stay inside the Dhikala zone. Corbett's oldest and most beautiful zone which is covered in natural greenery and provide a cool experience; which is named, "Dhikala zone," comes from the name of the area's largest grassland, "Dhikal." In addition to being the largest meadow in Corbett, Sal's deep forest supports the greatest diversity of flora and wildlife. You can see the Ramganga River as well. The Royal Bengal Tiger, Asiatic Elephant, and numerous deer, wild boar, sloth etc species are examples of the fauna.
You can spend the night in the forest and get close to nature while having an unforgettable experience. Being surrounded by nature and living in a forest allows one to observe many animal species in their natural settings.
Dhikala Zone is the largest and oldest zone of Jim Corbett, hence the possibilities of seeing different species increased. One might enjoy spending two nights inside the forest there. The tour's thrill is increased by 4 time jeep safari in 2 night stay in the deep dense forest of Dhikala Zone of Jim Corbett National Park started from the chilly season. The Ramganga River, on the other hand, works in tandem with the surrounding natural wildlife and plants. The majority of the animals, such as Royal Bengal Tiger, Asiatic Elephant, Leopard including crocodiles like King Cobras, Alligators, and Gharials as well as birds and fish, rely on the river Ramganga for food and water. These creatures are easily seen as they freely move through the forest and can be seen while riding with your friends and family.
Corbett Tiger Reserve area will provide you the chance to spend the night in the dense forest in addition to giving you a view of the local fauna and flora. These Dhikala Forest Rest Houses were created specifically to provide you with a concept or an unforgettable experience. The likelihood of seeing a Hog deer, a rare type of deer, is higher in this area. The government's forest department has given these Forest Lodges its approval so to enter into these Dhikala Forest houses the permit from government is necessary. Only by that jeep safari inside the dhikala zone is possible through the registered vehicle from the Govt. side.
These Dhikala Forest Lodges are 32 km from Dhangiri Gate and are located in a region where the Ramganga River runs. It is certain that the various Forest Lodges are located at various distances from the Dhangiri Gate. Only the Forest department vehicles may enter this region. You have access to the diverse flora and fauna that you may see from your Lodging; if you spend the night in the forest. Tourists have a good possibility of seeing wildlife in this location thanks to the grassland, jungle, flora and fauna, especially in the river area, where numerous animals congregate in search of food and water. These FRH is a must see if you're interested in nature or the conservation of wildlife.
One of the oldest structures in Dhikala was 'Old Forest House', which was created by British architects over a century ago. This distinguishes it from all others. Even after more than a century, the structure is occasionally renovated because it is a Government –authorized exit, therefore in order to access the Dhikala Forest area, you must first obtain a government permit. You will have the incredible opportunity to stay inside one of India's oldest Tiger Reserves, far from the city in the peaceful setting of nature and surrounded by wildlife. Your mood and state of mind will alter due to the surroundings, which also brings you tranquilly.
Details of Accommodation at Forest Lodges
NOTE— for further information related to Dhikala Forest Lodge Packages and Jim Corbett Jeep Safari contact us.
As for the safety of animals the Alcohol/Non-veg are not allowed inside the lodge. For food Canteen is there rather than a general store for daily needs (Do not throw garbage in the forest area). As it is forest lodge houses so only vegetarian food will be allowed with simple recipes but tasty at the same time. This zone opening timing from 15th Nov-15th June for the remaining time of the year it gets closed.
Details of Dhikala Forest Lodge Houses:
There are 25 rooms in the Dhikala Forest lodge those are available for tourists. These 25 rooms are divided into 5 categories.
· Old Forest Rest House - 5 Rooms.
· New Forest Rest House - 4 Rooms.
· Annexe Room - 7 Rooms.
· Cabin Rooms - 3 Rooms.
· Hutment Rooms - 6 Rooms
Gairal Forest Lodge
Old Forest Rest House :- 2 rooms
New Forest Rest House :- 4 rooms
These lodge houses have 6 rooms and 1 dormitory of 8 beds whether 6 rooms are also divided into 2 categories. 2 rooms in Old Forest House and 4 New forest houses. After Dhikala it is famous among the guests.Gairal forest lodge is located on the banks of Ramganga River. Gairal forest lodge have electricity for a few hours in the evening via generator.
Sarapduli Forest Lodge-
It has 2 standard rooms & 1 dormitory of 3 beds.
As Ramganga River goes through this forest lodge and is located on the way to Dhikala lodge from Dhangari gate. Guest have a good possibility of seeing wildlife in this location thanks to the grassland, jungle, flora and fauna, especially in the river area, where numerous animal congregate in search of food and water. For bird watchers & to see crocodiles, Sarapduli forest lodge is the best place.
Sultan Forest Lodge-
Sultan forest lodge has 2 standard rooms.
When you cross the Dhangiri gate to Dhikala Lodge it comes first in the route. Solar fencing is not around Sultan Forest Lodge. Solar fencing is not around Sultan Forest Lodge. It is named after Sultan Sot (local seasonal stream) which flows through this region.
Accommodation in forest lodge - Basic / Standard Accommodation:
Attached toilets: - yes except in dormitory.
Star category: - None.
AC in the rooms: - No.
TV in the rooms: - No.
Tea cattle maker in the rooms: - No.
Mobile connectivity: - Negligible.
Land line: - No.
Electricity: - Only Dhikala lodge has fixed electricity line. Electricity in all the other rest houses is provided by solar panels.
Restaurant / Canteen: - Dhikala and Gairal lodges offer canteen with buffet meals. Other lodges provide kitchen facility with room attendants.
Room category: - Tough there are different room categories but all the rooms are similar. Even rooms with same category may vary from each other.
Location: - All the lodges in dhikala zone have excellent location and offers a wonderful view of forests and provides a rich and unique experience.
Safety: - All the rest house except sultan are covered with solar wire fencing to keep away the animals entering the forest lodges.
Dhikala is the most famous forest lodge in Corbett National park. Situated 32 kms inside the jungle, Dhikala forest lodge offers breathtaking view of Ramganga reservoir. Dhikala forest lodge has most number of rooms in the park. There are 2 canteens inside Dhikala Forest Lodge.
On the bank of Ramganga River, the Dhikala Forest Lodge is build inside the forest of Corbett National Park. The Dhikala Forest Lodge, also known as the Dhikala Forest Rest House, is build by the Corbett National Park's Forest Department and it offers guests the chance to stay inside the forest. If you want to escape from the city's noise and hectic-schedule, is the perfect destination to because of its attractive setting and lovely surroundings. If you are coming with your families so you should choose Dhikala Forest Lodge since it is the only lodge in the national park that offers electricity in the rooms. One must enter the Corbett National Park through the Dhangarhi Gate in order to get to the Dhikala Forest Lodge.
The distance between Dhangarhi gate and Dhikala forest lodge is 32 kilometres, and as soon as the car enters the gate, one can see how beautiful the Dhikala zone area is; on the route of leading to Dhikala Forest Lodge, there are more lodges including Gairal, Sultan, Sarapduli. There are several possibilities to see animals on the amazing trip from Dhangarhi to Dhikala Forest Lodge. Dhikala Forest Lodge is enclosed by a solar wire fence to protect its guests. Since Dhikala Forest Lodge is very well-liked by tourists from India and beyond, it is best to secure permits in advance. Dhikala Forest Lodge features two dormitories, each with 12 beds. Dorm rooms frequently have bathrooms. At Dhikala Forest Lodge, each of rooms has an attached bathroom with hot (solar) and cold running water. In the centre of Corbett National Park is where Dhikala Forest Rest House's campus is situated, there are two canteens on the Dhikala Forest Lodge; therefore there is no issue with the meals there whether non-veg is not allowed there. For the safety of those visitors in the Lodges, all forest lodges are surrounded by sun-oriented wire fence except than the Sultan Forest Lodge.
About Dhikala Zone
The Dhikala zone is the largest and the biggest area of the Corbett national park that is accessible to visitors and offers excellent game viewing opportunities. The largest area in the national park, Dhikala zone, which is home to a variety of wild life and different species. Dhikala zone also features sal timberlands, mixed backwoods, and a variety of fauna in addition to meadows. The Ramganga stream, which supports the natural life in the area and enhances the beauty of the surroundings.
A variety of natural life, including several rare or local species, may be found in the Dhikala Zone. The most famous Royal Bengal tiger is one of the Dhikala region's most fascinating animals, but others wildlife are also often seen there are same facinating. Among the animals that inhabit this zone are Asiatic Elephants, Spotted deer, Sambar deer, Hog deer, Barking deer, Langurs, rehusus macaques, Wild Boar, Crocodiles, yellow-throated martins, gharials, mahasheer, pythons, and snakes. In addition, Dhikala is a paradise for birds, and among its more than 500 different species, one may find a reasonable pace. The constant inhabitants of the area include more than 300 different species of feathery animals. The Dhikala zone is renowned for providing sanctuary to some of the most threatened species, including different variety of Deer, Gharials, otters, and mahasheer fish.
Accommodation in Dhikala Forest Lodge:
Dhikala forest rest house has a total room inventory of 32 rooms which is further classified into 06 wings as mentioned below:-
04 rooms - New Forest Rest House, Dhikala
05 rooms - Old Forest Rest House, Dhikala
07 rooms Annexe room Dhikala
06 Hutment rooms, Dhikala
06 Cabin rooms, Dhikala
04 Old Range quarters, Dhikala
PHOTO ID Proofs: ADHAR CARD or DRIVING LICENCE or PASSPORT or PAN CARD or STUDENT ID or VOTER ID: that are accepted - we require the number only - Scan copy is not required.
The First Traveller listed on the Booking form has to carry the same ID Proof as submitted for Booking Jeep Safari to visiting Corbett National Park.
TAll other Travellers also have to carry an ID Proof.
Charges are NON-REFUNDABLE.
Corbett Accommodation Formalities:
To enter into the registered area of Jim Corbett, each and every visitor to the Corbett National Park must first get a permit from the appropriate government website. Always keep your photocopies of the applicants' identity cards for security purposes. To obtain the permission on the entry gate, foreign nationals must present their passport and a photocopy of it.
Permits for Corbett Forest Lodges should be booked 2 months prior their visiting date, only then the available FRH will be given to you. A permit cannot be transferred, and once it has been issued, it cannot be refunded. The park administration is not in any way liable for any harm that occurs.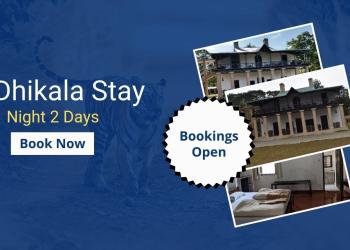 Pricing Details Customized for Indian National Room ..
Best time to visit: November to June
Places: Jim Corbett National Park
Starting from
12000
Per Person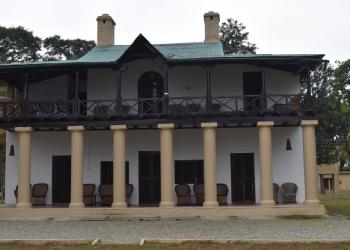 Pricing Details Customized for Indian National Room ..
Best time to visit:
Places: Corbett Dhikala, Jim Corbett National Park
Starting from
18000
Per Person